Who:
What:
"A blog devoted to food photography, fresh seasonal ingredients and celebrating life!" by photographer and editor, Helen duJardin.
Where:
Facebook
Twitter
Pinterest
Flickr
Instagram
Helene Dujardin Photography
Tartelette
There is reason this blog has had great accolades across the internet.  The recipes are yummy, the photography is gorgeous and there is a story behind every recipe – the stories all rich and enchanting.  This is the kind of blog/cookbook that you want to cuddle up and read with a hot cup of tea in hand.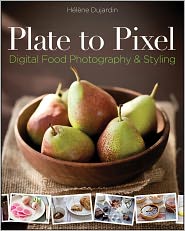 A Must-Have for Food Photographers
Editor, Helen duJardin is a wonderful photography and is also the Senior Photographer for Oxmoor House, a book publishing company.  She has authored Plate to Pixel (click on the picture for more information), a book on Digital Food Photography and Styling and she teaches workshops all over the world.
Food Photography & Styling Workshop
The next food workshop has just been announced.  Four days in Myrtle Beach wih Chef John Ondo from Lana in Charleston, South Carolina will focus on Food Photography and Styling.  It looks absolutely fabulous and besides the Food Photography, there will be cooking classes as well.  The workshop includes EVERYTHING except your transportation there. Food, lodgings, happy hour… For more information and registration, click here. (PS hurry and sign up – this is limited to only 13 people)